Are you looking for a detailed Wix vs WordPress comparison guide to which to use in setting up your website? Be assured you just found one.
Wix and WordPress are two of the most popular website builders. But as similar as they may seem, there are lots of differences between them.
For one thing, while Wix is super beginner-friendly on the one hand, WordPress, on the other hand, isn't well suited for novices.
As such, having an in-depth understanding of the differences between a Wix website vs WordPress will help you make a better decision.
But don't worry, we've done most of the work for you in this comparison guide.
Wix vs WordPress: What's the Difference?
While Wix is basically a drag-and-drop website builder tool, WordPress, on the other hand, is a Content Management System.
They both serve the same purpose: to help you put a website online without having to write heavy codes.
But which is the best? The simple answer is, it depends on what you are looking for.
To help you answer that question accurately, we will be comparing the two website technologies based on:
Ease of use
Cost
Blogging and SEO
Support
Let's get into it!
Wix vs WordPress: Ease of Use
The first comparison criterion in this Wix website vs WordPress comparison guide is ease-of-use. Both are, to a varying extent, easy to use. However, their learning curves are different, even though you don't really need to know how to code to use them.
But how easy are they to use? Let's find out.
Wix: Ease of Use
Creating a website with Wix is ridiculously easy, thanks to its intuitive design editor. All you have to do is to drag, drop, edit to your heart's content, and publish.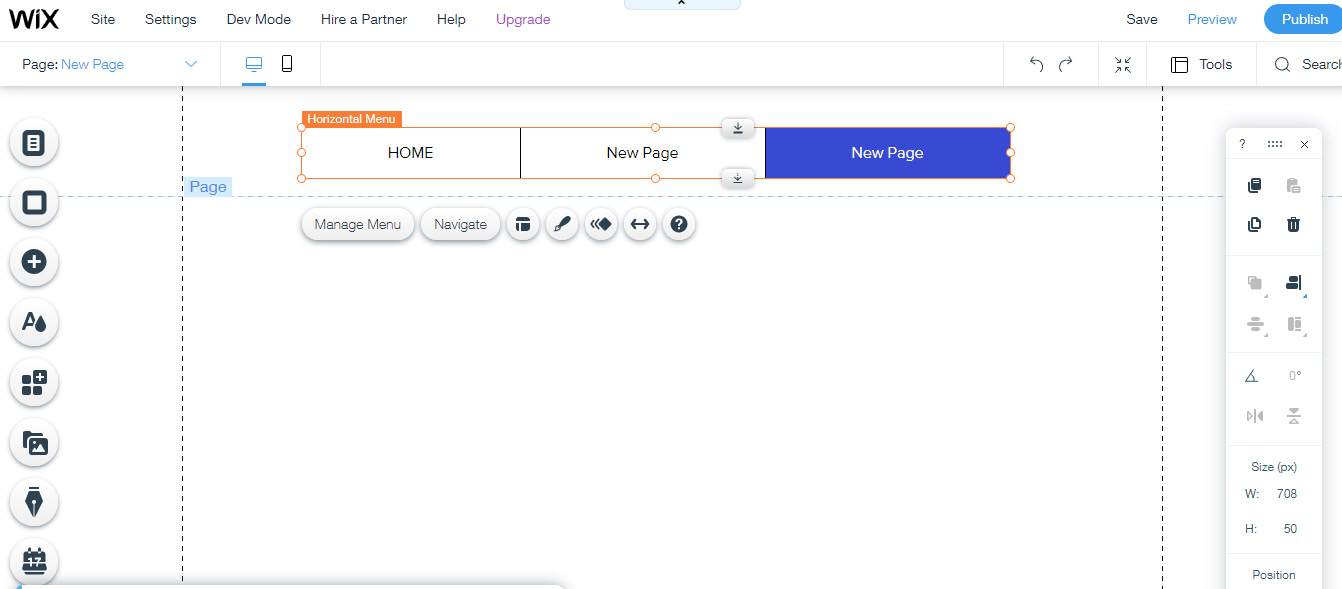 And that's even if you want to start building your website from scratch. If you don't wish to, just pick a pre-designed website template, make a few tweaks here and there, and you are all set.
Thankfully, Wix has got loads of website templates that cut across different industries that you can use.
Best of all, the templates are all free.
What's more, with Wix, hosting a website is easy peasy, lemon squeezy. With a few clicks of the button, you can publish your website online.
WordPress: Ease of Use
WordPress, quite to some extent, is easy to use. However, it's not so beginner-friendly.
Like Wix, WordPress also comes with an editor known as Gutenberg.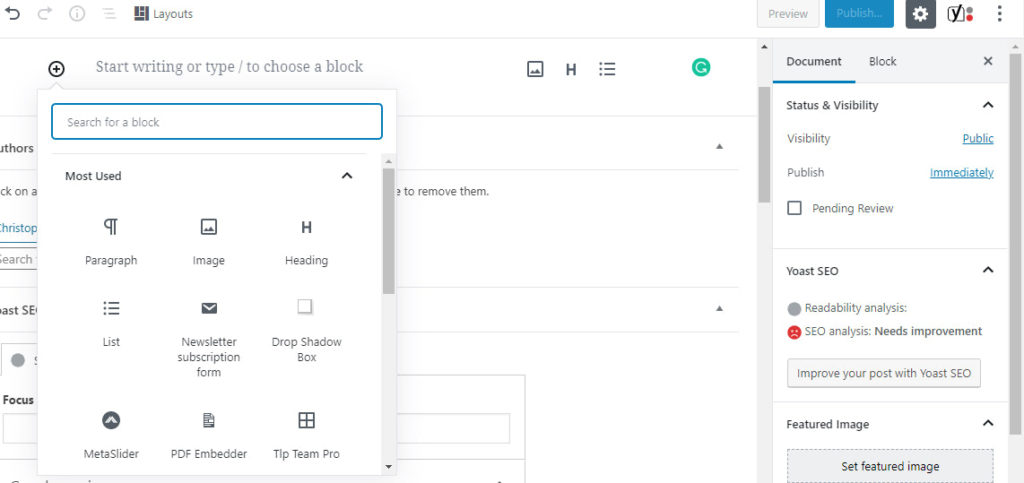 With the Gutenberg editor, you can insert website elements like image, heading, opt-in form, etc to your pages. Plus, it allows you to add pre-designed sections like a footer and header to your webpage.
The drawback with this editor, however, is that it lacks the flexibility that the Wix editor offers. For example, you can't drag elements around like you would with Wix's editor.
Fortunately, you can overcome this limitation by using page builder plugins like Elementor, Divi, WP Bakery, etc. They cost money, though.
To host a WordPress website, you need to know a thing or two about web servers.
Lastly, setting up a WordPress website isn't that straightforward, unlike Wix. First, you need to know how to use local development tools like XAMPP. Then when you are done building the website locally on your PC, you will need to push it online. That, too, requires some skill.
Quick Round-up
Wix's design editor is a lot easier and flexible to use than WordPress's native editor. Though it might take you a little while to get a hang of it.
Hosting a WordPress website is a bit more difficult than Wix's
You need some technical skill to set up a WordPress website, unlike Wix
Verdict: Wix is easier and more beginner-friendly than WordPress.
Wix vs WordPress: Cost
Wix and WordPress websites both cost money to build and maintain even though they are free, technically.
Confused? Well, you need not be.
Let's now see how Wix compares with WordPress cost-wise.
Wix: Cost
Wix is free. This means you can launch your website without having to spend a cent. That's provided you don't mind hosting your website on a generic domain, with a "wix.com" extension.
For example: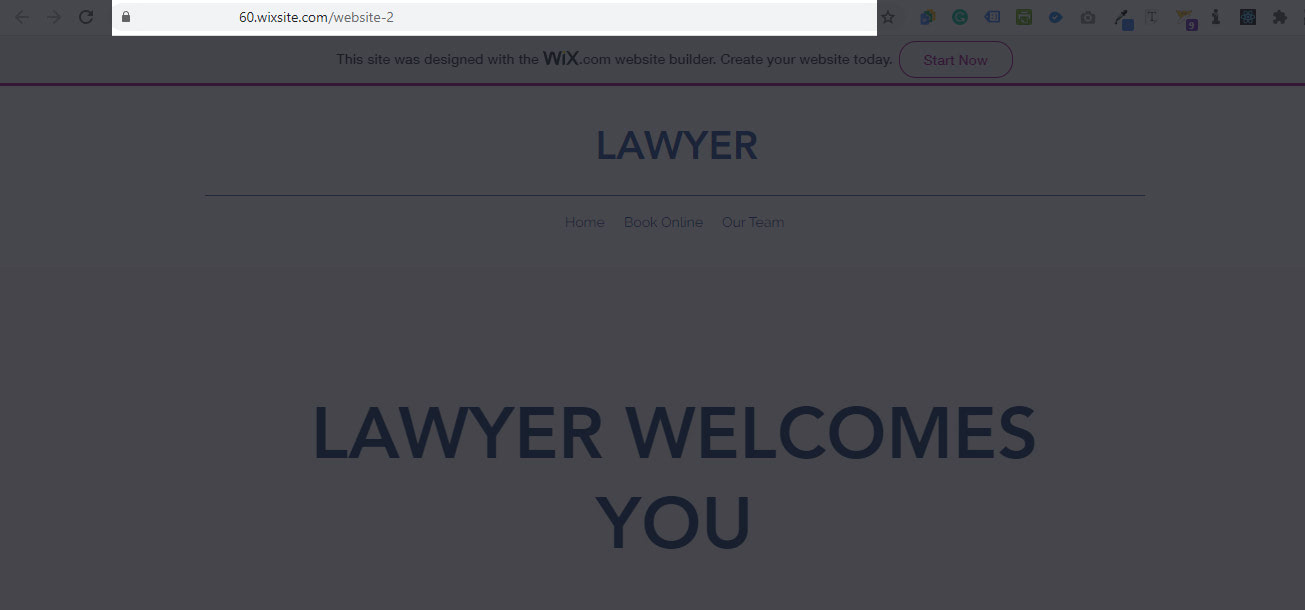 And you also don't have plans of adding advanced functionality to your website.
Otherwise, be prepared to rack up some expenses.
The first thing you will spend money on is getting a custom domain name. That will cost you nothing less than $4.5/month. So, in a year you would spend $54 on domain name and hosting.
Even at that, you won't still have a professional-looking website. The reason is, at $4.5/month, Wix's branding will be displayed on your website.
If you want the branding to be removed, you will pay $8.5/month instead.
In short, here's an overview of Wix's pricing.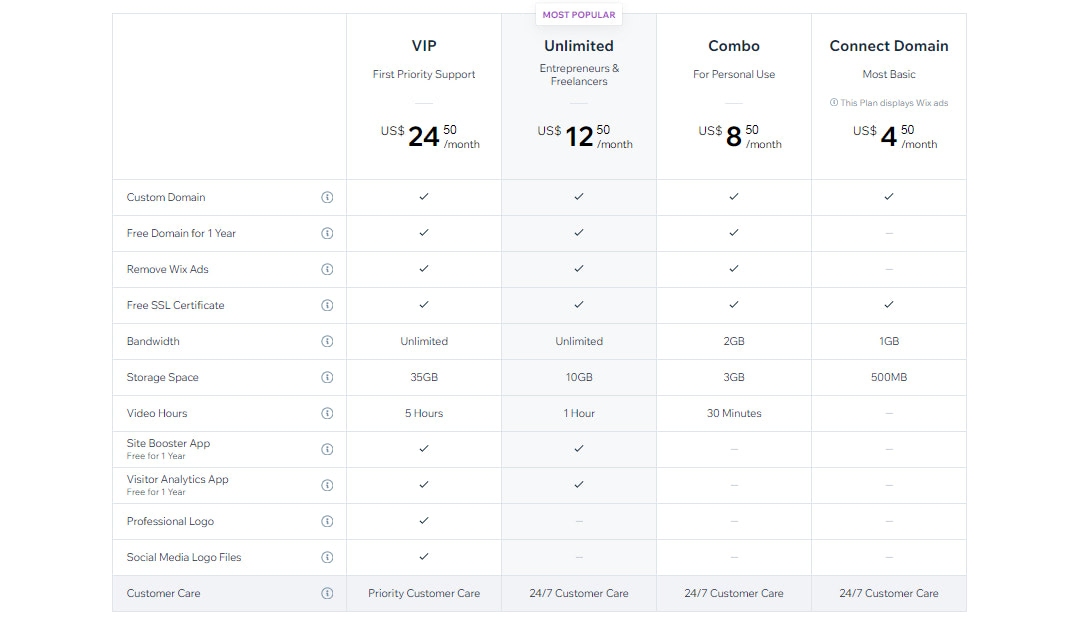 Let's just say putting a professional Wix website online will cost you about $102 a year.
Apps are another thing that might cost you money. You need them to add better functionality to your website.
Though some are free, most are paid. Take Wix Booking – a booking app – for example. It sells for $17/month. This comes up to $204/year. That's a lot of money.
Of course, you might end up not spending a dime on apps. Or worse, you could spend way more than you ever anticipated. It all depends on what you want.
WordPress: Cost
Like Wix, you can also host your WordPress website for free, thanks to hosting providers like Free Hosting, 000webhost, and x10Hosting.
Cool, right? Well, you get what you pay for. This free hosting will only work if you are just testing the waters. But if you are looking for something serious, free hosting won't cut it.
So, how much does hosting a WordPress website cost? It varies.
Here's a breakdown of pricing across popular WordPress hosting providers:
Bluehost: $2.95/month
Hostgator: $2.75/month
Dreamhost: $2.59/month
Siteground: $6.99/month
Bear in mind that these are the least prices. You might actually spend more, depending on your needs.
Then there's domain name and registration to worry about. This will cost you between $6 to $15 per year.
Thus, give or take you will spend about $40/year putting a WordPress website online.
Plugins and themes are two other things that might cost you money, too, so keep that in mind.
Quick Round-up
It cost money to put up a professional website online, regardless of the platform you chose. $102/year for Wix and $40/year for WordPress on average.
Apps and plugins will likely cost you money on Wix and WordPress, respectively. But we can't exactly peg a price to them.
Verdict: Wix, as you've seen, errs on the side of expensive. For this reason, WordPress wins.
Wix vs WordPress: Blogging and SEO
Wix website vs WordPress website: which is better for blogging? And which handles SEO better?
Let's find out.
Wix: Blogging and SEO
Wix handles blogging and SEO quite nicely. To begin with, it comes with a blogging editor that allows you to add posts to your website.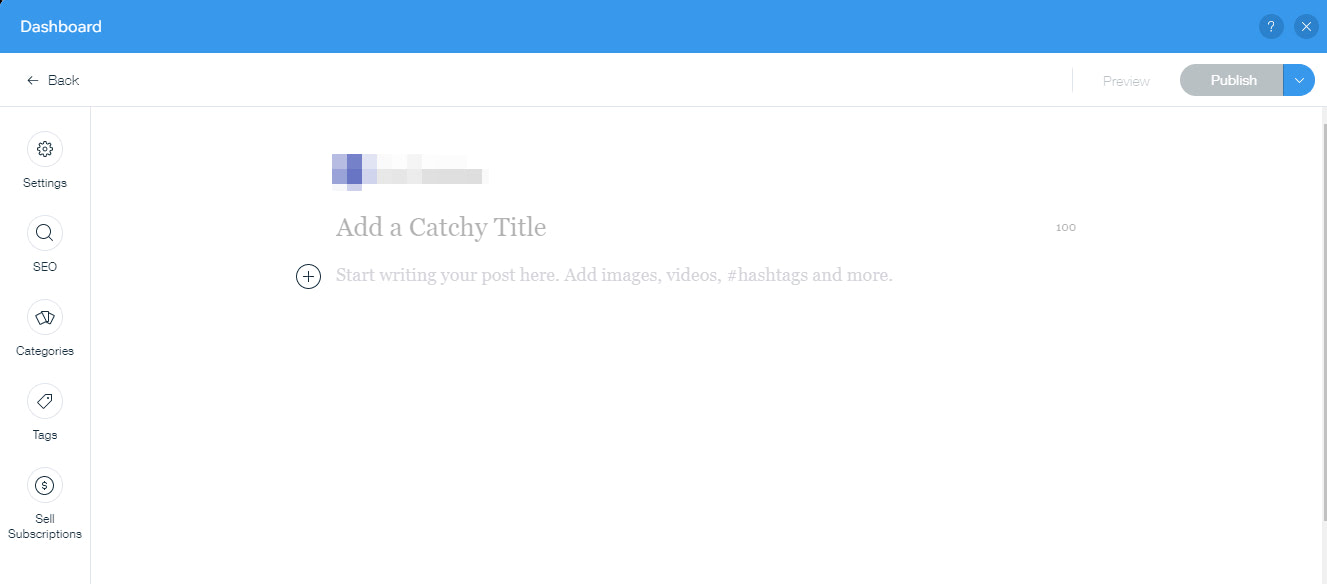 With this editor, you can add a title, images, excerpts, videos, and HTML code to your post. Interestingly, it gives you the option of previewing your post before publishing it.
What's more, you get to decide if you want to publish your post right away or schedule it for publishing at a later date.
Did we forget to mention that Wix's blog editor gives you the freedom to put your posts into categories and add tags to them?
Then for SEO, Wix is no wimp. For example, it allows you to add alt text to your images, create search-friendly slugs, supports schema markups and 301 redirects, can be integrated with Google Console, etc. All to help improve your search ranking.
Plus, it comes with lots of apps to help improve your website's visibility on Search Engines.
Despite the bells and whistles, Wix, as Ahrefs found out, falls short of expectations SEO-wise. After analyzing nearly 3 million Wix websites, they found only 1.4% enjoy organic traffic. For WordPress, the figure was 46.1%.
WordPress: Blogging and SEO
WordPress was originally a blogging platform at the time of its founding in 2003. Thus, it can be rightly said that blogging is at the very heart of WordPress.
Like Wix, WordPress also comes with a post editor.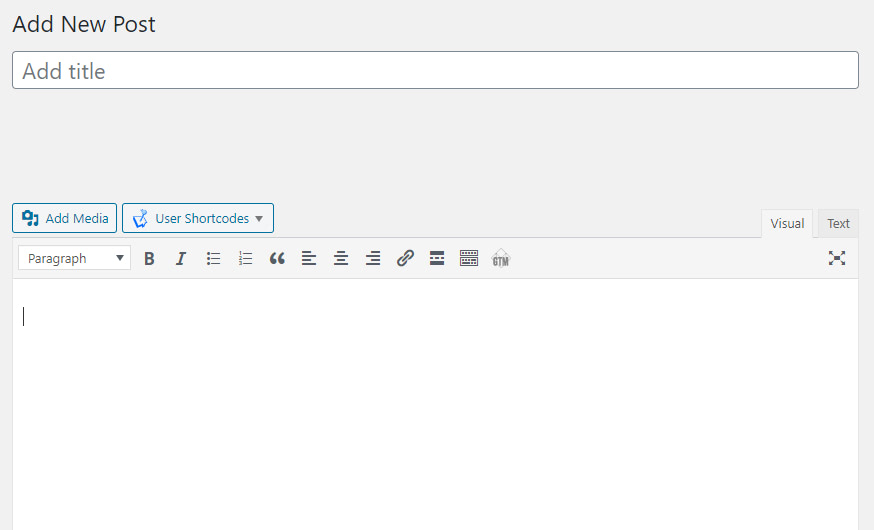 Here's how WordPress' editor differs from Wix's
On WordPress, you can edit the HTML code of any post you upload, but can't on Wix
WordPress makes formatting a post easy. That is, adding bulleted/number list, justifying text, adding heading tags (H1, H2..), inserting links, etc.
You can switch to distraction-free writing mode on WordPress, but can't on Wix.
For SEO, well, if nothing else, WordPress comes with one of the most powerful SEO plugins on the internet: Yoast SEO. It's smart enough to make suggestions that will help your published posts rank well on SERP (Search Engine Result Pages).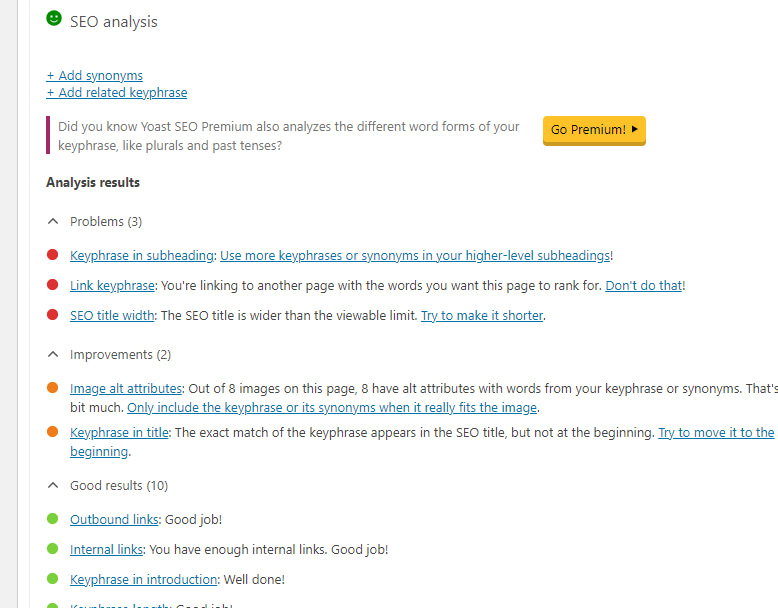 Quick Round-up
WordPress and Wix both have editors. But WordPress's editor offers more flexibility.
When you compare Wix websites vs WordPress websites based on SEO, the latter performs better.
Verdict: WordPress outperforms Wix, both blogging and SEO.
Wix vs WordPress: Support
This Wix vs WordPress comparison guide will never be complete if we don't talk about support. When you run into technical problems, who do you turn to for help?
Wix: Support
Wix offers 24/7 support, but only to their paying customers. The support channels include phone calls and live chat, in about 10 different languages, Japanese included.
In addition to customer support, Wix also has a robust user documentation guide you can always consult should you run into problems. Perfect choice if you only intend to stay on the free plan.
WordPress: Support
WordPress is an open-source software. This means that nobody owns it, really. As such, there is no one entity you can turn to for help whenever you need it.
However, this doesn't mean you won't find help anywhere. Here are places you can get support for your WordPress website.
Forums: you can post your questions and problems to these forums and get support from other WordPress users
Online resources: due to its popularity, there are a ton of written and video WordPress tutorial resources online.
Your hosting provider.
Quick Round-up
Wix and WordPress both offer support, but Wix's is more personalized.
Verdict: in terms of personalized support, we give it up for Wix.
Wix vs WordPress: Which is Better?
We've done justice to this Wix vs WordPress comparison guide, haven't we? This then begs the question: which is better?
The simple answer is:
If you are a novice to website building, like to get help, and want to get up and running fast without minding the cost, Wix is your best bet.
WordPress, on the other hand, is your go-to solution if you are looking for a website builder that is robust and offers unlimited flexibility. And pocket-friendly, too.