Are you looking for the best WordPress membership plugin to launch your membership website this 2021? Search no further because we are about to show them to you.
Running a membership website has several benefits. For one thing, it can provide you with a source of stable income, if managed properly.
On top of that, a membership site affords you the opportunity to build a community with your readers, customers, or users. By so doing, you will win their loyalty, and your business will grow.
Additionally, a membership website makes it possible for you to drip your content – that is to say, show them one at a time to users. This is particularly useful if you're looking to keep down your visitors' attention for a long time.
But to make all that possible, you need the right membership plugin for WordPress.
What to Look for in a WordPress Membership Plugin
The importance of picking the right plugin for your membership website can't be over-emphasized. But how do you know if a plugin is right for you? Simply by looking out for the following features:
Supports payment: If you are looking to set up a paid subscription website, you will need a way to collect payment from your users. For this reason, whatever plugin you go for should support PayPal, Stripe, or whatever payment gateway of your choice.
Supports content drip: One of the beauties of running a membership website is that it affords you the opportunity to get users to pay and consume your content in bits. This, technically, is content dripping. So, ensure the plugin you are looking at supports it.
Allows you to set membership levels: A good plugin should make it easy for you to create and assign membership levels to your users based on their subscription plan.
Has an analytic tool: You will want a plugin that makes it easy for you to track your website's metrics, and also manage your members' data.
Compatible with your version of WordPress: Very important!
Reviews of other users
Having said that, let's now see some of the best membership plugins for WordPress
Best Free WordPress Membership Plugins
Here are the membership plugins for WordPress we will be reviewing today:
Ultimate Member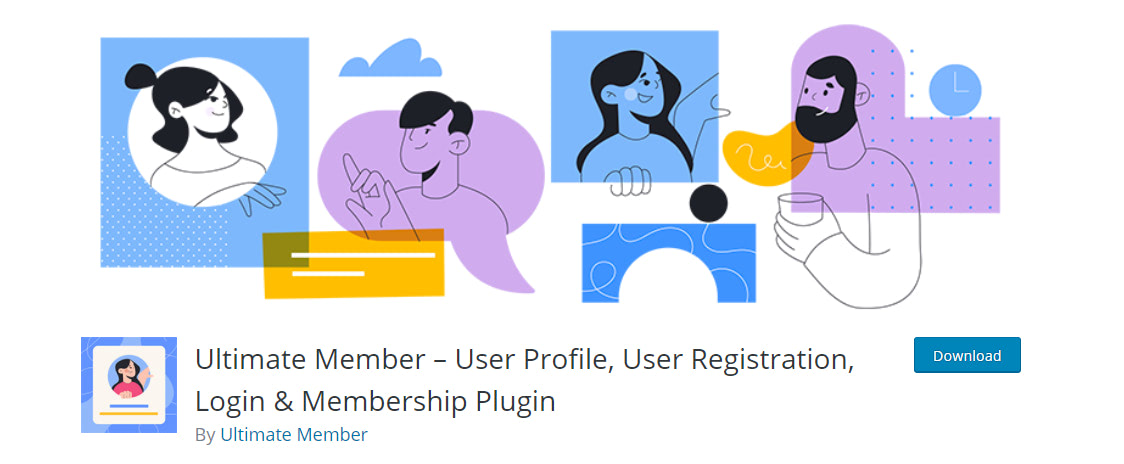 And so we kick off with Ultimate Member – one of the best membership plugins for WordPress on the internet. It makes setting up a subscription website so easy that you can get started with it while still a newbie at using WordPress
It comes with a drag-and-drop builder that allows you to create and customize your signup forms just the way you please. And not just that, this plugin allows you to set conditional logic to your forms, too.
Interestingly, Ultimate Member makes assigning user roles to your members a breeze. Subscriber, shop manager, customer, shop accountant, etc. are some of the assignable roles.
Also, this plugin handles page creation right out of the box for you. This means that it automatically creates user, login, registration, members, logout, account, and password reset pages with one click of the button.
Reasons to Use Ultimate Member
It allows you to restrict your content however you desire.
Comes with additional extensions, such as JobBoardWP with which you can manage jobs on your membership website.
Supports Google reCaptcha – to help keep spam bots off your website.
Let's you create a forum on your website, thanks to the free ForumWP extension
Comes packed with additional, though premium, extensions to help enhance your website's performance.
200,000+ installations
Compatible with WordPress 5.0 and above
Simple Membership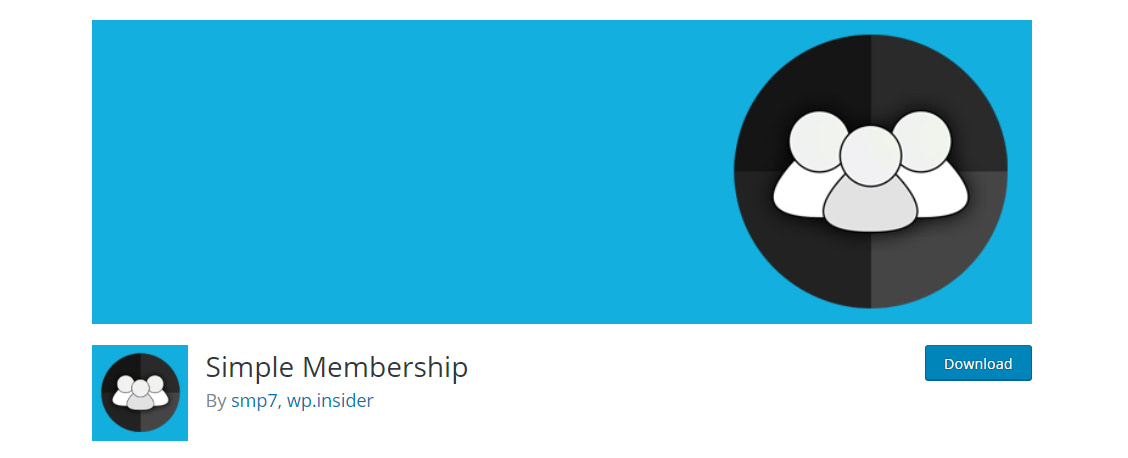 Don't get it twisted: this plugin might be simple to use, but powerful enough to help build a membership website from start to finish. And without hiring a developer.
To begin with, this free WordPress membership plugin allows you to restrict access to your content to non-paying members.
But protecting your content isn't only what this plugin is capable of. It can help you create different membership levels: free, silver and gold.
What's more, it lets you create signup forms to win new subscribers.
As for payment, Simple Membership supports PayPal, Stripe, and Braintree. It gives you the liberty to accept one-off or recurring payments.
The coolest part? You can track your users' payment log with pinpoint accuracy right from your WordPress dashboard.
Reasons to Use Simple Membership
Translatable to multiple languages
Compatible with all WordPress themes
Allows you to send email notifications to your members
Has a powerful filtering feature
50,000+ downloads
Paid Membership Pro

Next up is Paid Membership Pro. Don't let the pro scare you; it is actually a free membership plugin.
What makes this plugin worthy of giving a shot? Quite a lot!
Firstly, it allows you to limit access to your content to only paid members. And, of course, you can create different membership levels for your paying members without hassles.
Additionally, like Ultimate Member, this plugin can also automatically generate all the pages you will need to smoothly run your membership website. Account, checkout, cancel, billing information, invoice page, etc. These pages are all editable.
As you would expect, this plugin comes with an analytic dashboard from where you can track your sales and revenue, as well as your members' website status pages.
Would you like to create and use discount codes to attract and keep subscribers? Paid Membership Pro makes doing so super easy.
Reasons to Use Paid Membership Pro
Has detailed documentation you can always turn to for help
Comes with several free – as well as paid – addons to make your website to perform better
Allows you to control email notifications. For example, you can automatically send out an email when members check out, cancel their account, update billing information, etc.
100,000+ installations
Translatable to 16 different languages, aside from English(U.S)
WP-Members

Would you like to channel your energy and time into growing your membership website rather than manually managing every tad bit of it? WP-Members is one plugin to look to.
One of the features that endeared us to this plugin is that it is super light. The download file weighs a little more than 600kb. This means less load on your server, and, hence, optimal performance.
What can this plugin do for you? First, it allows you to restrict commenting to only registered users. That is if you want it that way.
If you would like to send an email confirmation link to members the instant they sign up for an account, WP-Members has no issue with that.
Also, you can make your website's menu visible only to registered users.
Another unique feature of this plugin is that it lets you customize your dialog. For example, you can set the message users would see when they complete their registration, attempt to view restricted content, update their information, etc.
Reasons to Use WP-Members
Allows you to embed login forms with shortcodes
Detailed user documentation
Makes sending automated emails to your users easy.
80,000+ active installations
Membership & Content Restriction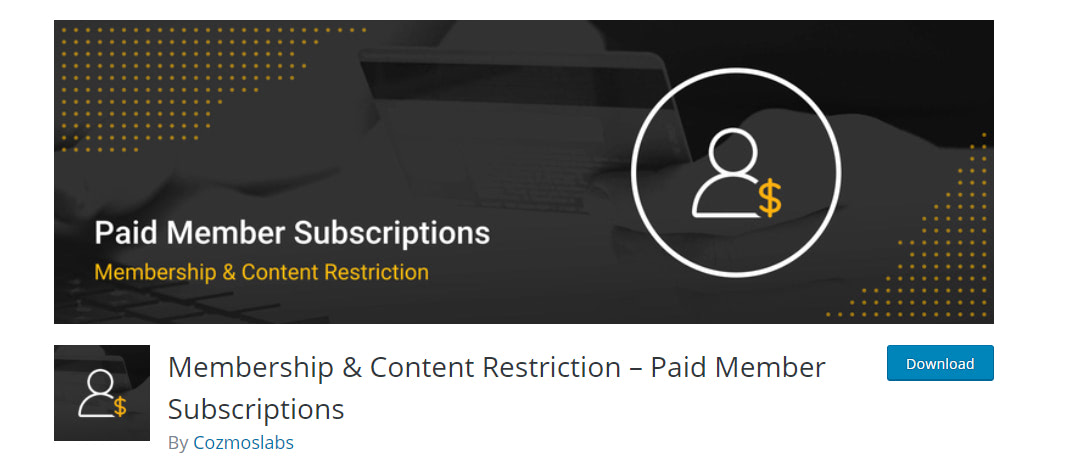 Next on our list of free membership plugins for WordPress is Membership & Content Restriction – MCR for short. The name says it all.
MCR makes creating subscription plans, managing members, accepting payment, and restricting access to your content easy peasy lemon squeezy.
What if you want to set up a store and want only paying members to have access to it? That's not a problem as MCR integrates well with WooCommerce.
Like most of the plugins we've reviewed so far, this one can also automatically create all the pages you will need to run your membership website seamlessly.
For payment, you have the option of choosing your preferred currency – and there are lots of options to choose from, including US Dollars. Plus, it lets you accept payments via PayPal.
Reasons to Use Membership & Content Restriction
Allows you to create discount coupon codes to attract and reward users
Offers detailed report analytics of your website
Comes packed with extensions to make your website perform better
Supports the use of shortcodes for creating registration and login forms
Allows you to offer free trials to users
10,000+ active installations
Download Membership & Content Restriction
Members

The last free WordPress membership plugin we will be looking at today is, well, Members! Straightforward name, yet powerful.
One of the uniqueness of this plugin is that in addition to managing members, it lets you assign user roles to them effortlessly. The coolest part is that you can assign more than one role to a user.
Of course, it lets you restrict access to your content and navigation menu based on membership level. If a non-paying member attempts to access your restricted content, you can customize the display message they will see.
For payments, this plugin allows you to charge members a premium fee to access your content. However, you can only do so in the upgraded version, as the free version doesn't have room for that.
Finally, Members plugin comes packed with add-ons you will need to make your work easier. An example is Members Privacy Caps, a plugin that lets you control your WordPress privacy and personal data feature.
Reasons to Use Members
Comes with free and paid add-ons
Allows you to create and edit user roles without hassles
Simple to use
200,000+ active installations
Conclusion
So there you have it: 6 awesome WordPress membership plugins to build and grow your membership website without much stress.
The best part is that they are all free, even though you might have to upgrade to their paid versions to get the most out of them.