A website is never really complete without a WordPress contact form. Why? Contact forms provide a means for potential customers to reach out to you on your website.
Thus, if it is missing or not working properly, just know that you've been losing a lot of business.
Okay, a contact form isn't the only way potential customers can reach out to you. They can do so via a live chat, email you directly, or just put a phone call across. Yes, those contact channels will work, but they have their limitations. We will get to the details shortly.
In this post, we will be reviewing some of the best plugins for creating a contact form for WordPress. The best part? These plugins are free.
Why Use a Contact Form for WordPress?
Like we earlier mentioned, contact forms aren't the only available communication channels between you and your visitors. Email tool, live chat, and phone are all practicable channels. But, unfortunately, they have their limitations as follows: 
Emails: one major limitation with your visitors emailing you directly is that your inbox could get overrun with spam. You don't want your inbox filled with spam messages from spambots, do you?
Live chat: this is another viable option, but the problem with live chat is that not everyone has the time to wait on a back and forth chat.
Phone call: the same problem with live chat.
But with a contact form, none of those limitations will be much of a problem. The reason is, first, contact forms are powered by smart technologies that help to keep spams. Second, it doesn't take so much time to use.
Now you've seen the reasons to use a contact form, it's about time we started reviewing plugins to help you create one.
Best Free WordPress Contact Form Plugins
Let's now review and show you how to download WordPress contact form plugins.
1. Contact Form 7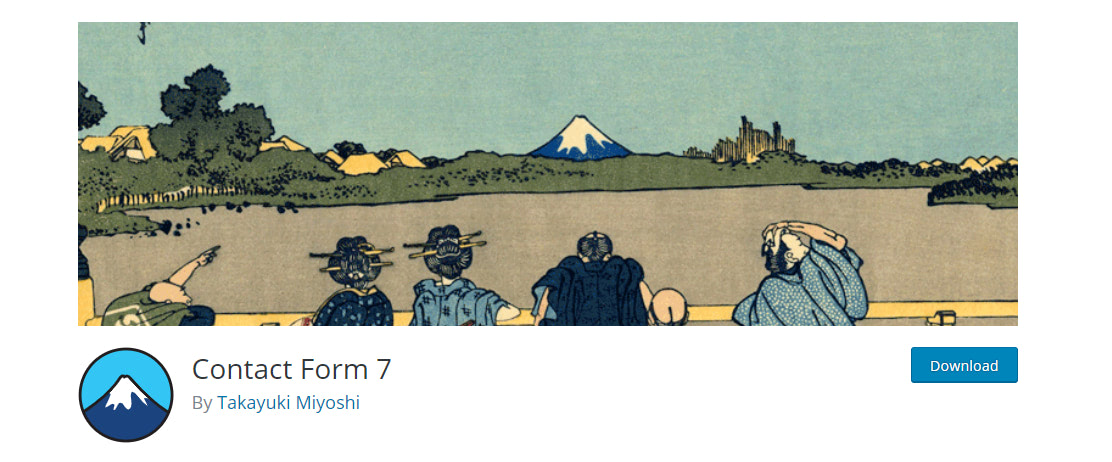 Talking about popularity, Contact Form 7 is second to none. In fact, Takayuki Miyoshi, the key developer of this plugin, is one of the pioneers of contact form solutions for WordPress.
But popularity isn't the only unique feature of this contact form plugin. It is simple to use you don't need to know anything about coding to customize it.
Plus, it is free. If it wasn't we wouldn't have included it in this list.
What's more, Contact Form 7 offers robust user documentation as well as a support forum.
Features Contact Form 7 Offers
Allows you to add text, number, and date field, as well as checkboxes to your forms
Can be integrated with reCaptcha
Makes custom styling of forms possible
Supports auto-response
Also supports multiple languages other than English
Follow the link below to download WordPress Contact Form 7
2. WPForms Lite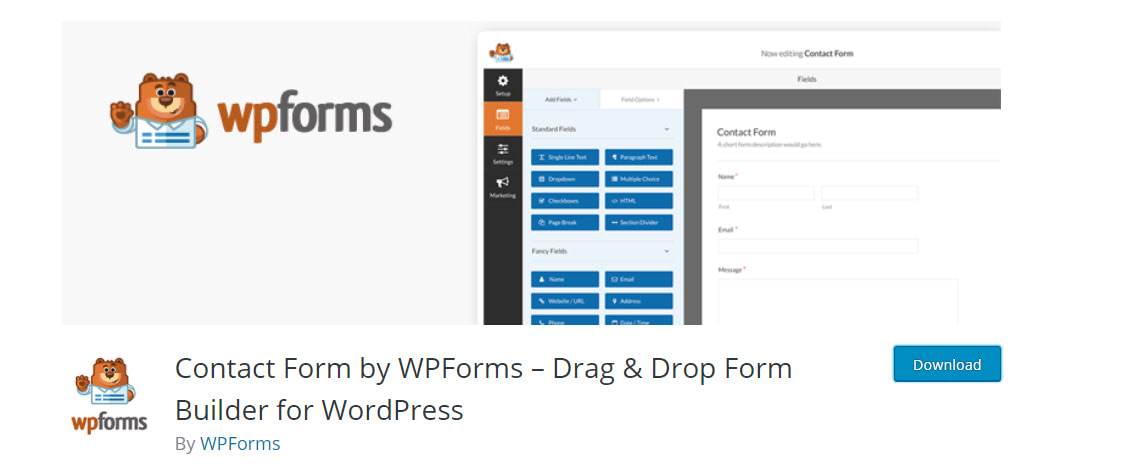 One major drawback with some WordPress contact form plugins – like the Contact Form 7 we earlier reviewed – is that you will need to edit codes just to tweak your form's look.
But what if you could do that simply by dragging and dropping UI elements to your form? This is where WPForms come in.
It saves you the trouble of editing codes, thanks to its intuitive drag-and-drop editor.
And you can add just about anything to your form just by dragging and dropping: dropdown menu, checkboxes, multi-choice option, email, etc.
Features WPForms Lite Offers
Supports anti-spam protection
Allows for Ajax form submission
Makes it possible for you to customize the submission processing button text
Supports email notification
Allows you to set up a confirmation message
Mobile responsiveness
3. HappyForms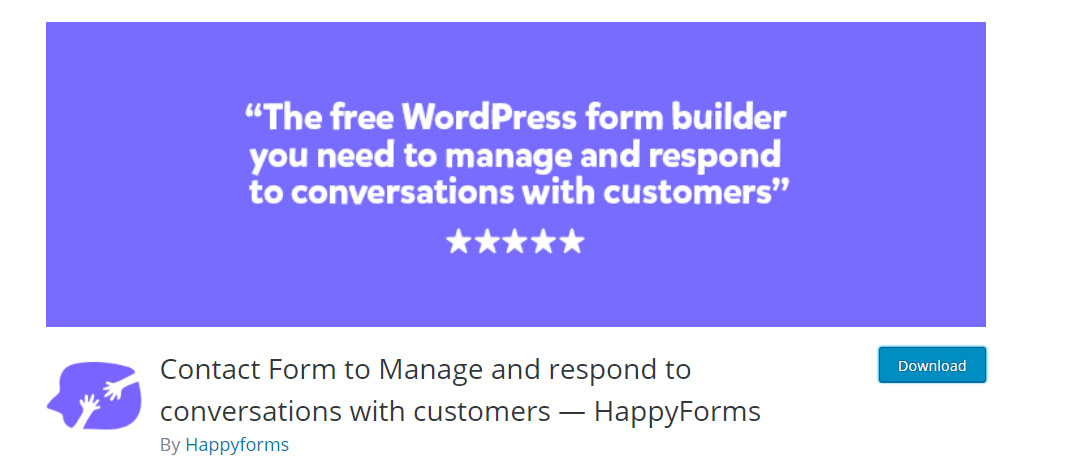 HappyForms is another drag-and-drop contact form plugin on our review list. True to its name, this plugin is one that you will be happy to use.
Why?
First, it allows you to add as many, varied fields as you please to your contact forms. Also, it gives you the creative freedom to style your form to your heart's content. And without having to write any code.
Wish to write your own custom, styling CSS code? HappyForms has no problems with that.
Features HappyForms Offer
Allows you to set up form submission success message
You can also do the same for failed submission
Display a custom message when a user fills your form incorrectly
Do the same also if a form is left unfilled
Mind you, HappyForms has a premium version that has advanced features. But the free version is enough to get you off ground.
4. Formidable Forms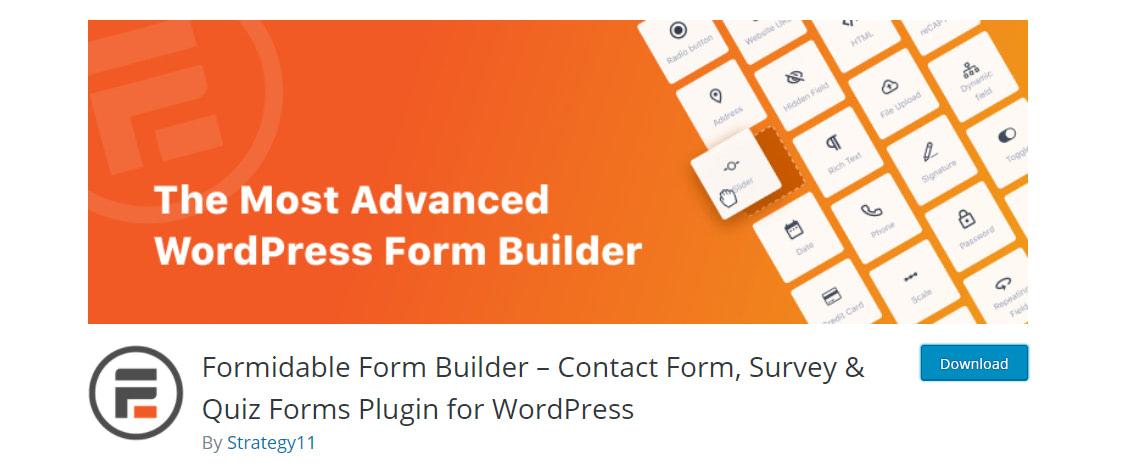 Would you like to start off your form design by using a template? Formidable Form is your go-to contact form building solution for WordPress.
What's more, it offers drag-and-drop form building, just like WPForms lite. And, as you would expect, Formidable forms allow you to add different fields to your contact form design.
On top of that, you have the option of displaying a custom message whenever a user has successfully submitted your form. In fact, if you prefer to redirect a user to a URL instead of showing a success message, this plugin lets you do that.
Features Formidable Form Offers
Allows you to add custom HTML code to your forms
Custom button styling
Supports reCaptcha
5. Simple Basic Contact Form

True to its name, this WordPress contact form plugin is indeed simple to use. But not so basic that you can't do anything meaningful with it.
What can you do with it? Quite a lot.
If you prefer to use your own custom anti-spam question rather than using the default reCaptcha, this plugin lets you do that.
Also, it lets you blacklist certain words in your forms. That means if a visitor types a blacklisted word in your form, the message will automatically be flagged off as spam.
Features Simple Basic Contact Form Offers
Custom placeholder text for email, message, and reCaptcha
Allows you to use custom CSS styling code
You can set your preferred success, error, and failed message delivery message.
6. Form Maker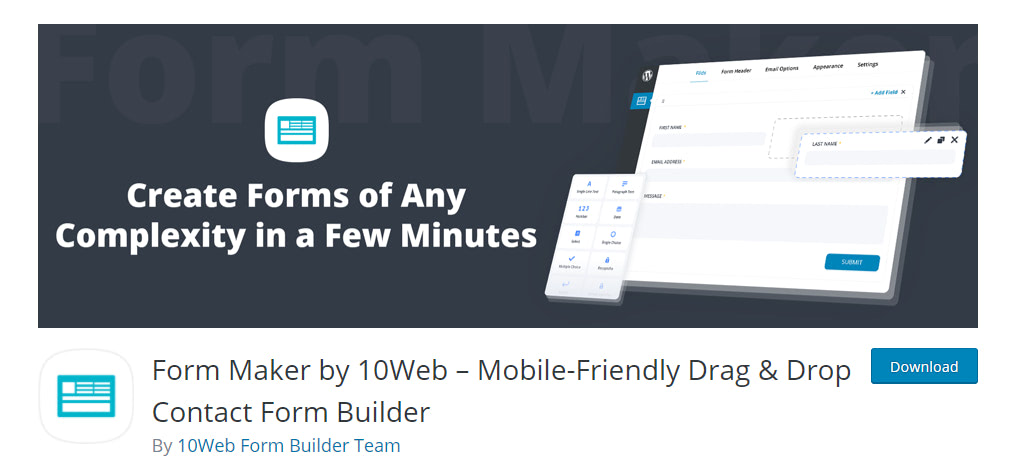 Do you prefer to build out your contact forms by dragging and dropping? Here's another plugin you will like.
Developed by the 10Web form builder team, Form Maker is one of the few free plugins that offer great flexibility. In addition to the basic name and email field, Form Maker allows you to add map marker, country list, star rating, phone-area code, etc. to your form.
In addition to that, it lets you control how your form will appear on your visitors' screens. For example, you can make your form display as a popup, a topbar, or a scroll-box.
As if that were not enough, you can add an animation effect to your forms. You can even hide your form on mobile if you so wish.
Features Form Maker Offers
14 free WordPress themes to build a contact form for WordPress
Custom CSS styling
Spam and anti-bot protection
7. Kali Form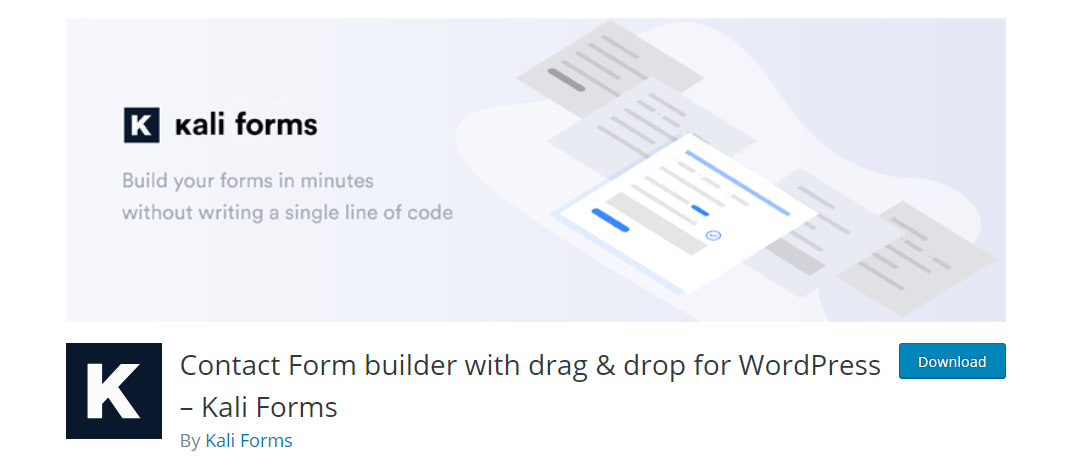 One of the features to look out for when picking a WordPress contact form plugin is the availability of templates. A plugin with lots of templates is a big time-saver, hence why we've included Kali Forms in this list.
Yes, Kali Forms come with pre-designed form templates – some are free, others are paid.
Also, unlike the plugins that we've reviewed so far, Kali Forms allow you to add a donation field to your form for free. This means that if you are looking to accept donations on your website, Kali Forms will come in handy.
In addition to a donation form, you can also integrate PayPal into your forms. And for free, too.
Features Kali Form Offers
GDPR-friendly contact forms
Spam filtering
Mobile responsiveness
8. Constant Contact Forms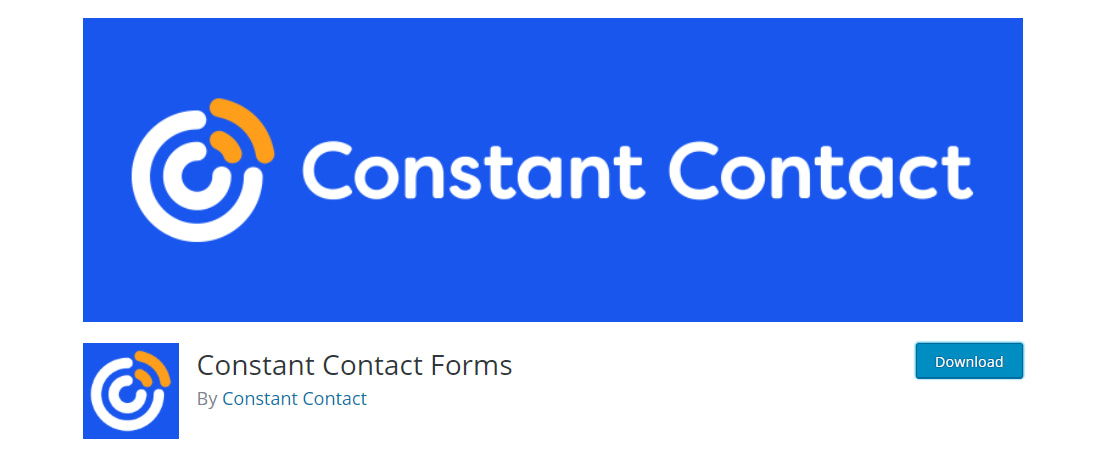 If mobile-responsiveness tops your list of criteria for picking a contact form plugin, you can't go wrong with Constant Contact.
In addition to being mobile-friendly, Constant Contact makes customizing and styling your form real good easy.
Plus, it lets your users submit forms without the contact page refreshing.
Features Constant Contact Offers
Allows you to style your form's submit button just the way you want it
Allows you to mark a field as required.
9. weForms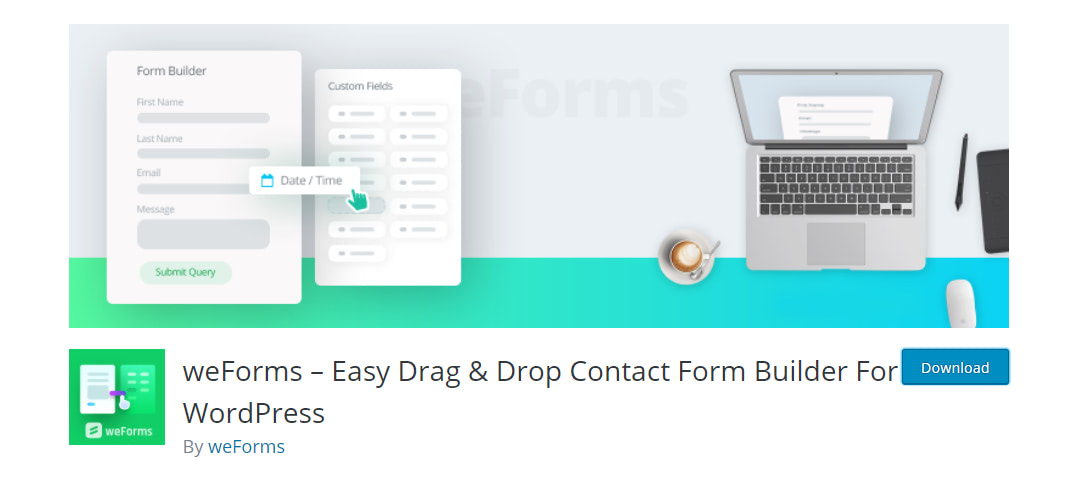 Would you like to preview your contact form as you build it out before publishing it? weForms is your go-to contact form plugin.
On top of that, weForms is one of the few plugins that allow you to integrate third-party software tools like Slack, MailPoet, Sprout Invoices, etc. for free.
Features weForms Offer
Allows you limit the number of entries your form can take
Require login from users before using your form
Form scheduling
10. Flo Forms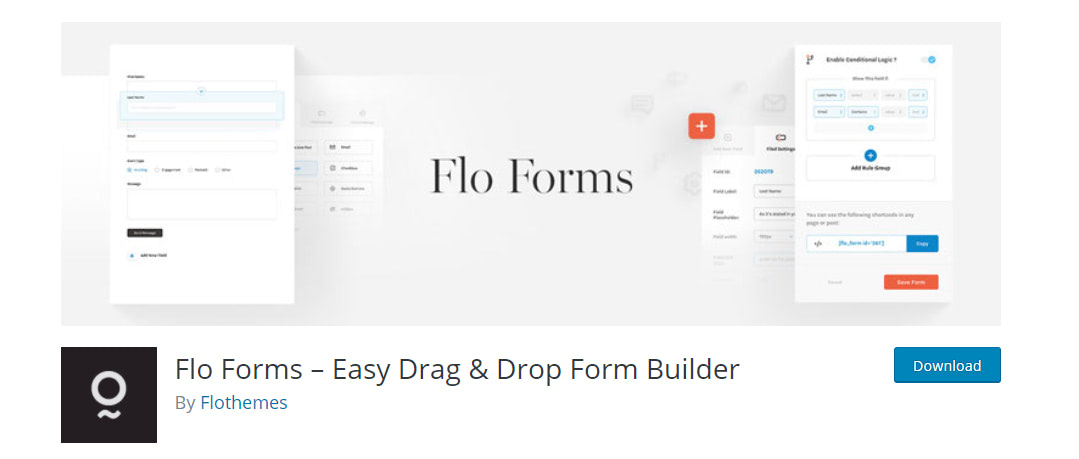 Last, but definitely not the least, of plugins for creating a contact form for WordPress, is Flo Forms. One of the things we love about this plugin is that it makes building mobile-friendly contact forms easy.
What's more, Flo Forms allow you to set conditional logic to your forms for free.
Ever heard of conditional logic? It's an algorithm that determines what your form will display based on the input of a user.
For example, you can make your form ask for age if a user indicates s/he is an adult.
Features that Flo Forms Offer
Field label and placeholders
You can create your own form submission success message
Allows you to add as many fields as you please to your form
Conclusion
So there you have it: 10 best, free WordPress Contact Form plugins you can use to build functional, elegant forms for your website. We've attached links to help you download WordPress Contact Form plugins with ease.
It's our hope that you found this post useful.