Are you looking for an online resource that teaches how to start a blog, and how to do so in the right way? Well, you are in luck because you just found one.
To start a WordPress blog, you don't have to be a tech guru, neither do you have to be an avid developer.
In this post, we will be sharing all you need to know to create WordPress blog without stress. And yes, this article is aimed at beginners. Even if you've built your skill level up and not a beginner anymore, you will still find this post useful.
Without ado, let's get right into it. But first, the highlight.
Why Choose WordPress for Blogging?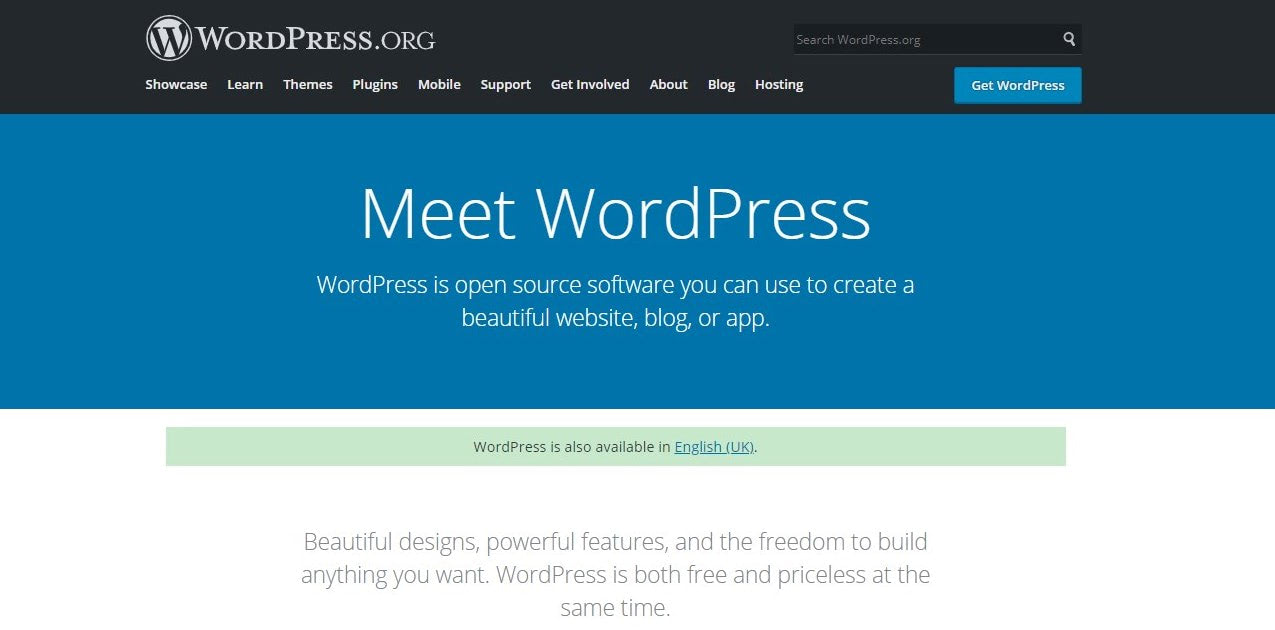 When WordPress was first launched in 2003, the original intent was for it to be a blogging tool. But then, with time, it grew from being a mere blogging tool to a full-blown website builder software.
What has this got to do with anything? Blogging lies at the very heart of WordPress.
This is the reason why setting up a blog on WordPress is quite easy. Plus, WordPress blogs naturally perform well SEO-wise, thus, ensuring that your website enjoys high visibility on search engines.
With that out of the way, let's get to the main business of the day: how to start a WordPress blog.
How to Start a WordPress Blog in the Right Way
Before you set about to start a WordPress blog – especially in the right way – here are the steps you need to take:
How to Start a Blog: Come With a Domain Name
Say you ordered a shoe online and wanted it delivered to your doorstep. You would have to give out your home address, right? A domain name is no different: it's your website's home address on the internet.
It usually looks like this: www.mywebsite.com
Of course, that example is imaginary, and we only used it here for illustrative purposes.
Coming up with a catchy, memorable domain name is very important, hence the reason we are starting off with it in this guide.
How then can you come up with a domain name for your website? Here are some tips:
Go for a .com extension – it is memorable and outranks other extensions like .org, .net, .site etc. in terms of popularity.
Avoid using ambiguous, confusing words in your domain name
Keep it short
Avoid using a hyphen (-) in your domain name.
Need help with generating a domain name for your blog? Here are some domain name generators that can help:
How to Start a Blog: Get a Hosting Account
Before setting out to start a blog, you need to sort out hosting – this is where your blog website will live.
Thankfully, there are lots of affordable companies out there that provide beginner-friendly hosting solutions.
So, what are the best hosting services you can sign up for? Well, we would like to recommend some that WordPress itself has okayed, together with their pricing.
Mind you, those prices are for basic WordPress hosting. Anything more will attract a higher fee.
How to Start a Blog: Install WordPress on Your Domain
With your domain name and hosting ready, the next step now is to install WordPress.
Some hosting providers automatically install WordPress on your domain the instant you sign up for an account. A good example is Bluehost.
But if you are not lucky enough to enjoy automatic hosting, there is a way around that. First, log into your cPanel.
To do this, simply append ":2083" to your domain name.
For example www.mywebsite.com:2083
Note: depending on your hosting provider, this might not work as not all hosting providers use the same cPanel. So, if that didn't work for you, reach out to your hosting provider.
With that cleared up, locate the WordPress install icon in your cPanel like so:

Click the icon and follow the installation instruction that comes up afterward. When the installation process has completed, move to the next step.
Need a detailed tutorial that explains how to install WordPress? Check this one out.
How to Start a Blog: Pick and Install a Blogging Theme
Now that you have your blog website up and running, the next step is to work on the design. Thankfully, you don't have to be a web designer, neither do you need to have mad coding skills to do that.
Simply find the theme that fits your blog website best and install it. But how do you find a theme on WordPress?
First, log in to your dashboard and then navigate to Appearance >> Themes

Then on the themes page, click the Add New button.
Next, search for the theme you would like to install – that is if you know the name.
But if you don't, use the filter feature to cut through the massive collection of WordPress themes to the right blogging theme like so: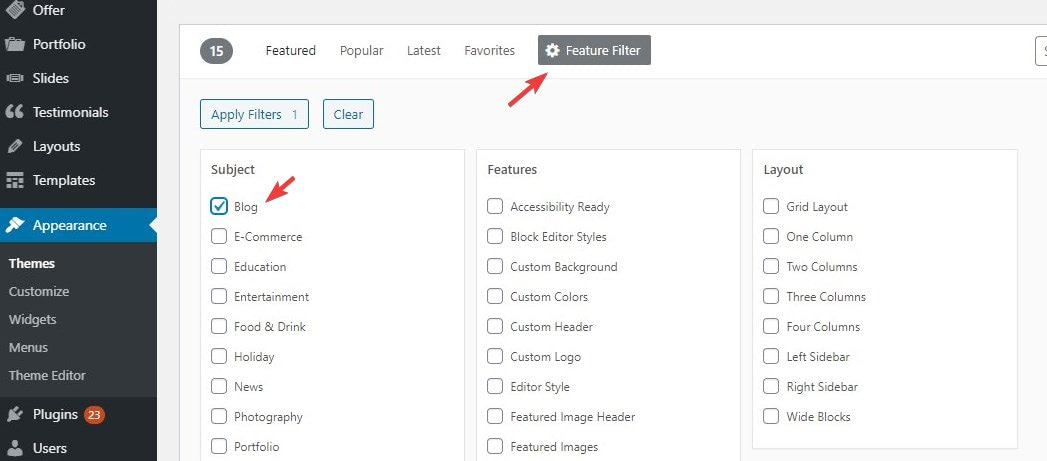 Once you've found a theme, hover over it, click the Install button, then followed by the Activate button.

And you are done.
Couldn't find any theme that hit the spot for you? Here are some blogging themes we feel you will like.
Let's now move to the next step.
How to Start a Blog: Create Pages and Posts
With your website's configuration taken care of, what you will want to do next is to create and publish pages and posts.
To create a page, simply navigate to Pages >> Add New.
Set a name for your page as well as a featured image, and then publish.

You are at liberty to create as many pages as you please.
The process for creating and publishing a post is the same. Just navigate to Posts >> Add New. Set the title and featured image for your post and publish.
Would you like to put your posts into categories? Doing so will not only help to structure your blog better, but also help to improve SEO.
To add a category, navigate to Post >> Categories. Set a name and slug (URL) for the category, pick a parent category if you so wish, and then save by hitting the Add New Category button.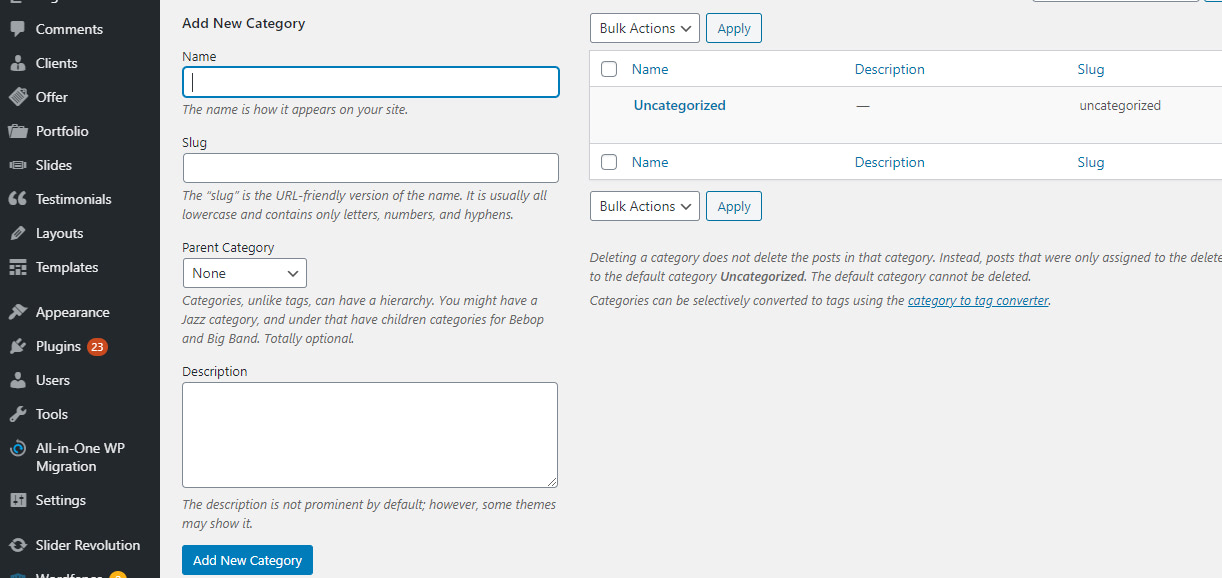 The next time you want to publish a post, add it to the category you just created.
How to Start a Blog: Configure your Website
Configuring your website is another step you need to take when looking to start a WordPress blog.
Why is this step important? WordPress comes with some default settings you might not like. For example, your homepage, by default, is where all the posts you publish will appear. If you don't want this and prefer to have a dedicated blog page, navigate to Settings >>Reading.
Then set the homepage to a static page as shown below

After that, select the page you like to use as the Homepage and Post (Blog) page. Don't forget to hit the Save Changes button at the bottom of the page when you are done.
Another part of your website you will want to configure is the site title and tagline. By default, WordPress sets your site's title as your name, and tagline as "Just another WordPress website".
To change those, navigate to Settings >> General. Then input your preferred site title and tagline.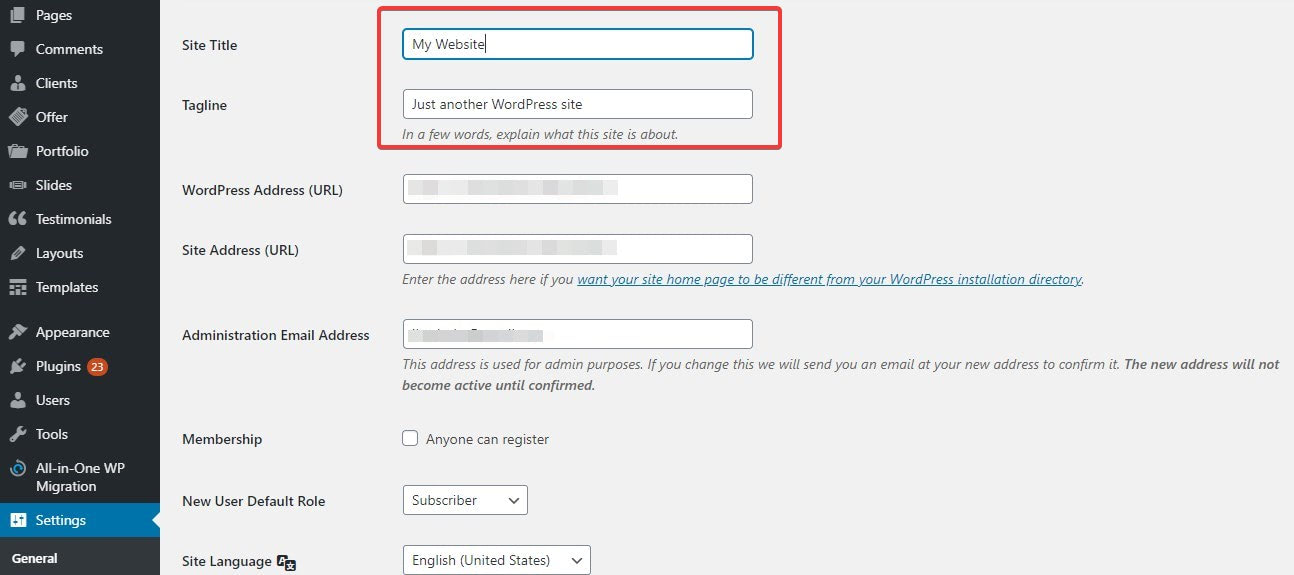 You can also change the admin email if you so wish. Save changes and proceed to the next step.
Finally, you will need to create and configure your website's navigation menu. To do so, open Appearance >> Menu.
Then create a menu. For example, "Top Menu".

After creating the menu, select the pages you would like to add to it. Then save the menu.
How to Start a Blog: Install the Right Plugins
To create a WordPress blog you will really be proud of, it's as well important that you install the right plugin to your website.
Plugins help to enhance your website's functionality and performance.
So, what are some of the must-have plugins for a blog website? We will be recommending some of the best.
But before that, let's show you how to install a plugin.
First, download the plugin from the WordPress repository (or any other safe source). Next, log in to your dashboard and navigate to Plugins >> Add New

On the plugins page, click the Upload Plugin button.

After that, locate the downloaded plugin file on your local machine, install and activate it.
Now you've learned how to install a plugin, let's get back to where we left off.
Plugins to Protect Your Website
If your website isn't well protected, it could get compromised by malicious hackers. As such, protecting your blog website should always be of top priority.
Here are free plugins to help you with that.
Plugins to Improve SEO
Do you want to improve your website's visibility on Google search results? Here are plugins to help you achieve that.
Plugins to Enhance Performance
You want your website to load blazingly fast and perform optimally, don't you? Well, you can't go wrong with these plugins.
Plugins for Maintenance
Would you like to take your website down temporarily for maintenance, while at the same time keeping your visitors informed and updated? Here are plugins to help you achieve that.
Conclusion
Looking to learn how to start a blog on WordPress? Well, we've shared with you all that needs to be known in this post.
All the steps outlined here are easy to follow and don't require you to have prior knowledge of WordPress.